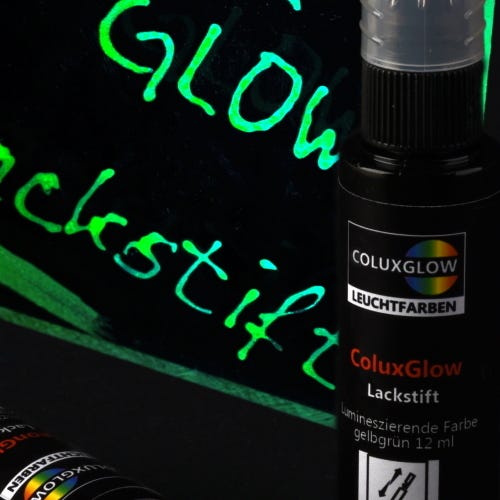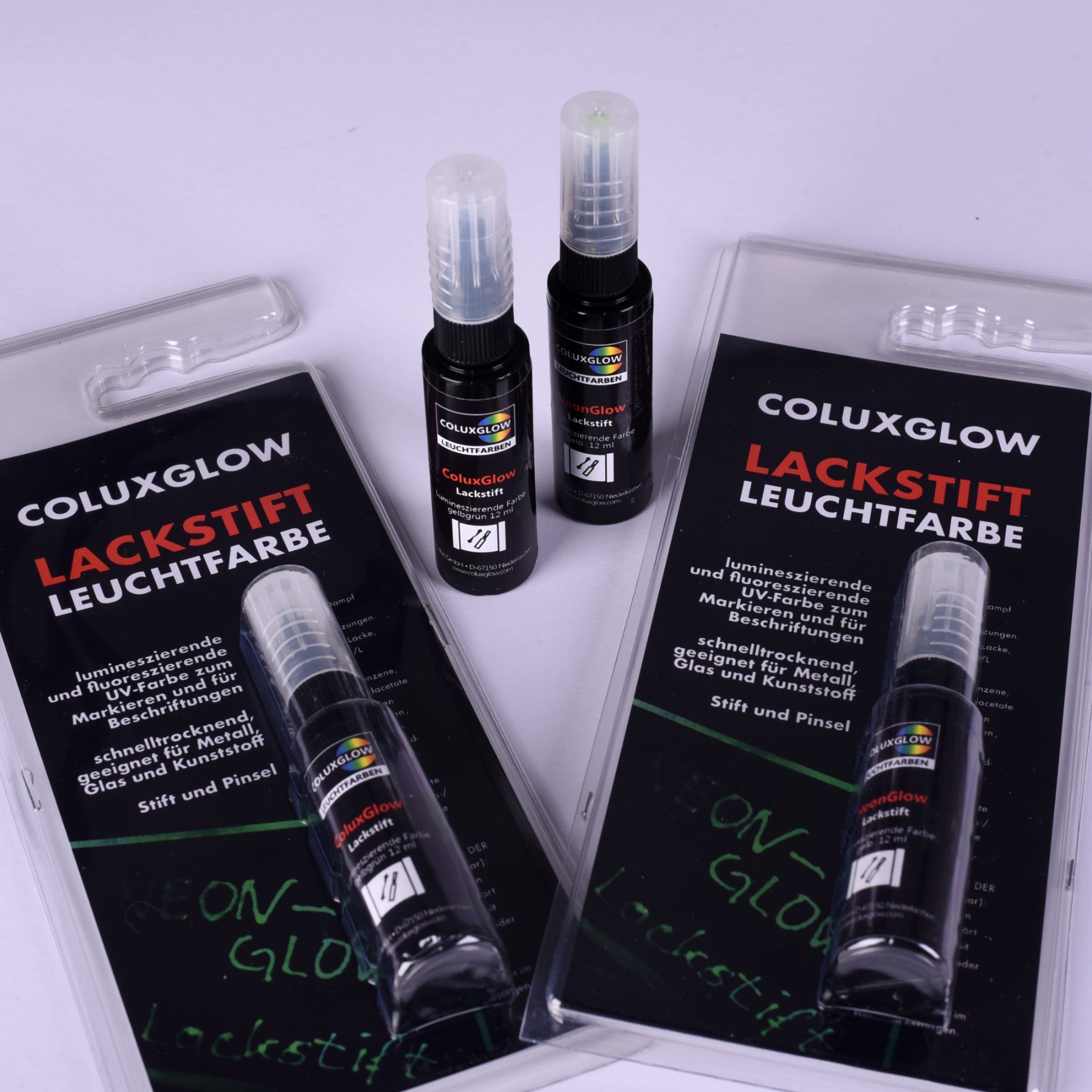 Lackstift
Nachleuchtfarbe
für Metall, Glas und Kunststoff *
Lumineszierend • schnelltrocknend
Touch-up pencil
Afterglow paint
for metal, glass and plastic *
Luminescent - fast drying
(D) Lumineszierende und nachleuchtende Signalfarben im innovativen Lackstift 2in1
als Pinsel und Stift. Damit lassen sich leuchtende Markierungen einfach und
schnell auf vielen Trägermaterialien aufbringen.
Zum Markieren mit dem Stift einfach die Kappe abziehen, zum Benutzen des Pinsels
aufschrauben. Nach Benutzung sollte man die Spitze mit Universalverdünner reinigen.
Die Farbe haftet auf allen glatten und trockenen Flächen aus Metall, Glas und
Kunststoff.
(EN) Luminescent and luminescent signal colours in the innovative paint pen 2in1
as brush and pen. Luminescent markings can be applied quickly and easily to many substrates.
Simply remove the cap to mark with the pen and unscrew it to use the brush.
After use, the tip should be cleaned with universal thinner.The paint adheres to all smooth and dry surfaces made of metal, glass and plastic.
Pinsel+ Stift Touch-up Pen
(D)
1. Stift so lange schütteln bis
Kugelhörbarist.
2. Schraubverschluss mit Pinsel
zum Malen aufdrehen.
3. Obere Kappeabziehenund Stift
zum Schreiben drücken. Die Mine
ist bei Verklebung mit Universal-
verdünner leicht zureinigen.
Lackstift 12 ml
Pinsel+ Stift Touch-up Pen
(EN)
1. Shake the pen until
ball is audible.
2. Screw on the cap with the brush
to paint.
3. Pull off the upper cap and
to write. The lead
can be easily cleaned with universal
thinner to clean the lead.
Touch-up pencil 12 ml.